I mentioned in a couple of posts at this site that I believe that Cumulative Flow Diagrams (as used in Lean Production) would be a minor improvement to the visual communication and control in FDD - compared to the existing FDD Features Complete graph.
In discussion with Jason Marshall, we concluded that we wanted a graph which would communicate scope creep as well as actual work in-progress and Features completed. We didn't like the current alternative I was using - to display a percentage complete graph based on Feature milestone percentages, and a Features complete graph. The former suffers from the "false reporting" problem and the latter from the lack of inclusion of work in-progress.
This is particularly a problem when CPW sizes are too large, as the development tends not to flow but instead to go-stop, go-stop. Work is always happening but Features are not always being completed.
Jason and I devised a requirement for a graph such as the one shown below. I later discovered that this was a known technique and it had a name already - a Cumulative Flow Diagram.
As you can see it clearly communicates the scope creep in the project, as well as the work remaining, the work in-progress and the total Features completed.
It is possible to produce a version of this chart which shows work at each milestone i.e. you break out in-progress into different categories for each milestone in the DBF-BBF stages, namely "walkthough", "design", "design review", "coding", "code review", "promote to build".
With a graph like this, the manager can see at a glance the health of the project and the possible bottlenecks - cross referenced to the issue log, there is almost no other tool required.
Comments please...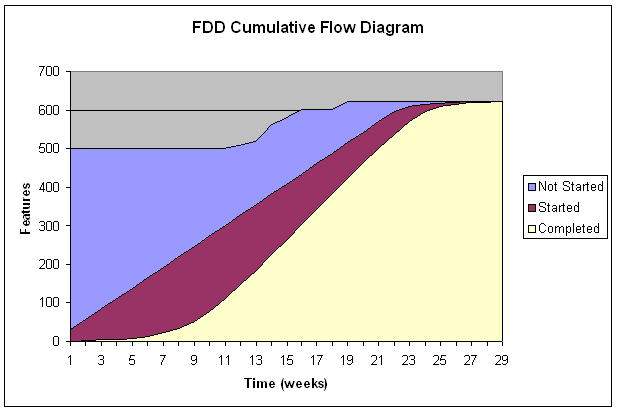 Notes: The start rate for Features in CPWs and the completion rate of Features are highly idealized in this example - its not data from a real project